History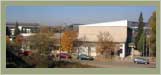 The Company CER Skopje came out from the reconstruction and the privatization of the former Mines and Iron & Steelworks Skopje.

The Company started its activity on October 20th, 1967 and in 1976 was established as an independent entity of the same company.

After conversion of the capital in 1999 the company has been 100% privatized and registered as: CER DOO SKOPJE.

In 2003, in order to increase itís manufacturing and servicing capacity, CER DOO become a holding company and formed 6 more companies.
In 2004 CER acquired MRTT DOO Skopje (Measuring and Regulation Techniques and Telecommunications).

Later that year CER extended its activity outside of the capitol Skopje. Having acquired the EMS DOO Stip, the company increased its manufacturing and service capacity. This was the first step for CER to have a regional production and service strategy.

Mission

To make profits, being competitive on the market, offering high quality products and services, guaranteeing total quality in order to provide customers, workers, shareholders and suppliers with maximum satisfaction, keeping in mind the safeguard of the environment.