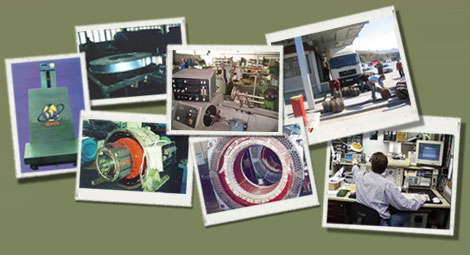 FACILITIES
The objects where reparations and services are carried out are located in one common structural complex such as:
1. Area of covered objects being 4700 m2
2. Servicing plants (workshops) 9 divisions
3. Warehouses for spares in four rooms
4. Offices 25
5. All the objects made of solid construction
6. Road and railway connection
7. Located in Mines and Iron & Steelworks Skopje and Stip
MAIN EQUIPMENT AND MACHINES
The equipment and machines are assigned to carry out the professional activities in reparations and servicing electrical machines such as:
- Cranes 2X10 t. and 2X5 t;
- Winding coils machines 9, different in sizes;
- Industrial drying machines 4 in two sizes and power of 15 kW and 45 kW;
- Filtering traffo-oil machines, two mobile with capacity of 2000 l/hour;
- Rotor coils moulding machines;
- Rotor coils tension machines;
- Rotor coils isolating machines;
- Winding machines and forming sections for high-tension and direct current motors;
- Mechanical vehicle pool;
- Other auxiliary machines, devices and tools;
- Motor pool.
EQUIPMENT FOR CONTROL AND INSPECTION
- Complete station for inspection and control of electrical machines-manufactured by Rade Koncar – Zagreb;
- Portable instruments for testing on the very spot;
- Portable instruments for testing and control of vibrations;
- Portable instruments for testing dielectric hardness of traffo-oil;
- Instrument for measuring transferable transformers ratio; and
- Oscilloscopes.
LABORATORY EQUIPMENT AND ACCESSORIES
- Control weights 500 kg (20 pcs), control weights 20 kg (500 pcs), control weights class F1 and F2;
- Dead weight tester up to 600 bars;
- Control manometers class 0.1 from -1 bar to 600 bars (10 pcs), control manometers class 0.2 (10 pcs);
- Laboratory thermocouples Pt-Pt-Rh 10%;
- Resistance thermometers, class 0.05 oC
STAFF
Employed: 103 workers;
Managerial team:
Technical: 11 graduate electrical engineers of which one Master of Science and 2 mechanical engineers
Administration: 9